It is not a country, but a continent. There is no other place on earth as rich in diversity. Every state, often every city within a state has a unique culture, history, food, language, and writing script. It is also extremely cheap to backpack across, which, in my opinion, is the best way to experience India. It is the best bang for the buck: every time you get off the train, it is like a different country.  This post is a collection of summaries and links to other posts on my 3 trips:
Tamil Nadu, with Mom - 2015
North-East India for an SoC design workshop, Mom joined - 2019
Solo-Backpacking across North India - 2020.
---
The Taste of India
India is the foodie's paradise.  Food - both street and posh - from seafood of Kolkata to ganja lassi of Varanasi and dry rotis at a hut in Thar desert. Hunting street food is an experience: the smells, people, walking through alleyways... This post is a collection of mouth-watering food from all three trips.
North India
2020 - Solo Backpacking
Overview
I spent about six months planning a 2.5-month-long backpacking trip, right after my graduation. I even told this when I was interviewed for a junior lecturer position, and got permission to join after the trip. When nobody joined, I made it a solo-backpacking trip, which made it way better. My estimated budget was just 300,000 LKR (1700 USD). Unfortunately, a month into my trip, Covid lockdowns began and I got stranded in Delhi for 3 more months. I'm planning to go back to complete the rest of the trip.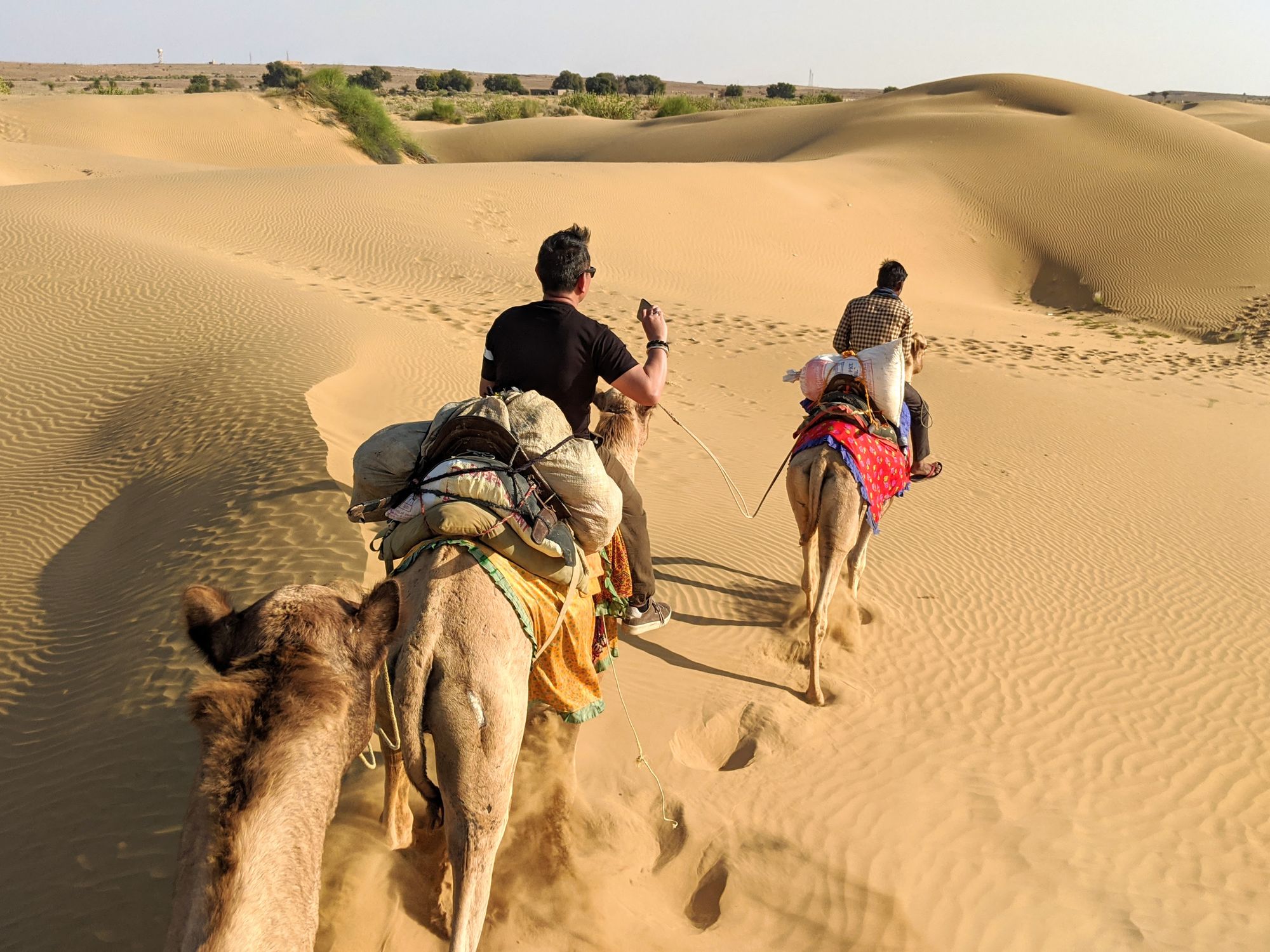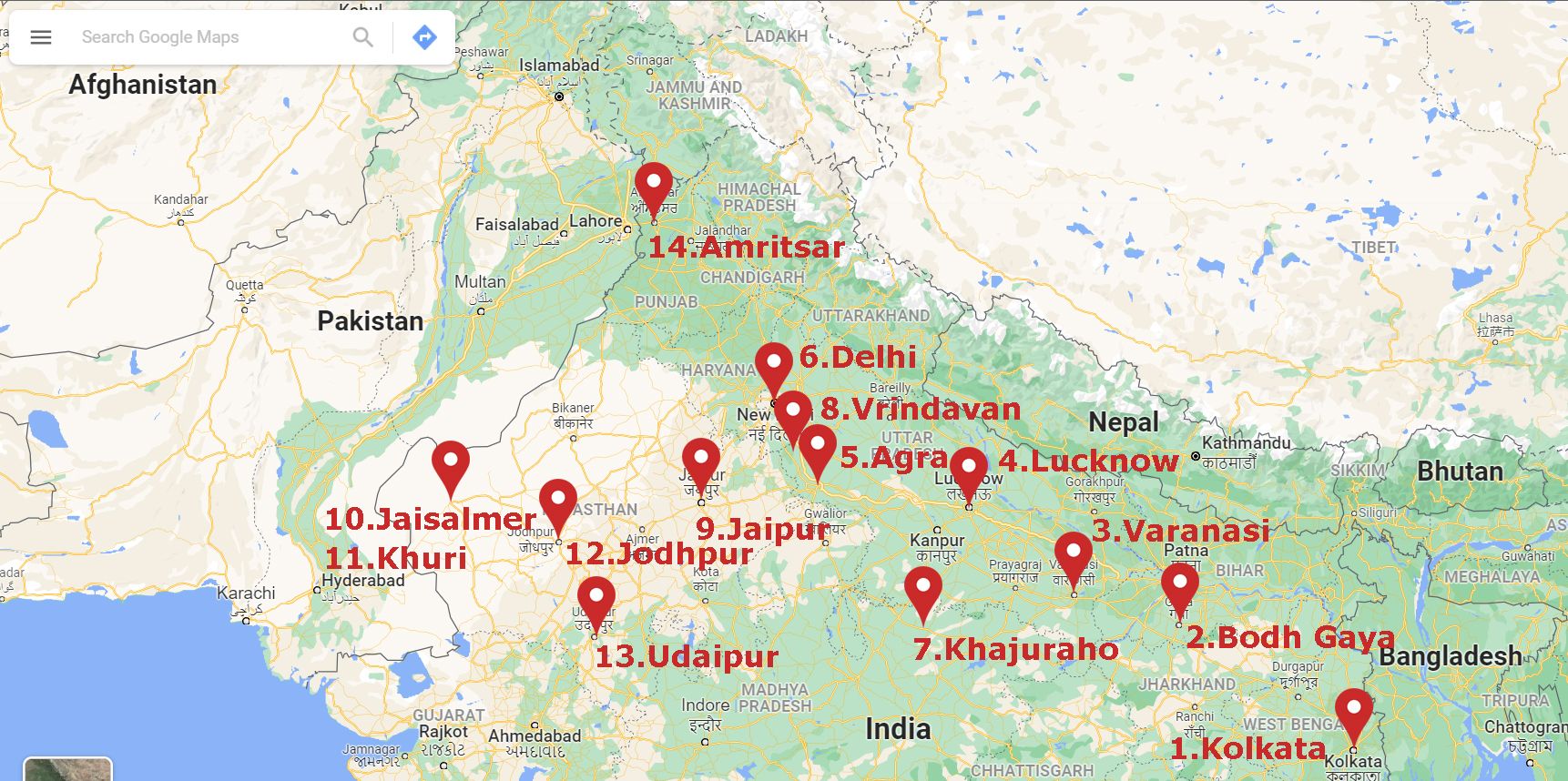 Planning
I took a list of all places I want to visit in India and marked them on Google Maps. I read several articles and extended that list. I also purchased a copy of Lonely Planet, which turned out to be super helpful. Then I chose the main cities around which those are located and started tracing a route. Note that I was able to see up to Jaisalmer, Udaipur, and Jodhpur only, due to Covid.
Execution (Key tips)
As soon as I got down to Kolkata, I bought an Indian SIM card. It is a procedure you cannot do in many cities (we couldn't in Guwahati and Chidambaram).
I installed the Indian Railways app, which is extremely useful, but occasionally buggy. I book the trains two days in advance through the app and pay via online transaction from my debit card. LKR gets converted to INR.
Indian trains are fast, comfortable, and quite reliable. I always booked the 3rd class sleeper berths, which are more comfortable than Sri Lankan trains. In rare cases where I cannot find a train, I booked sleeper buses, which are quite good, but not as comfortable. By traveling at night on sleeper coaches, I saved a lot on accommodation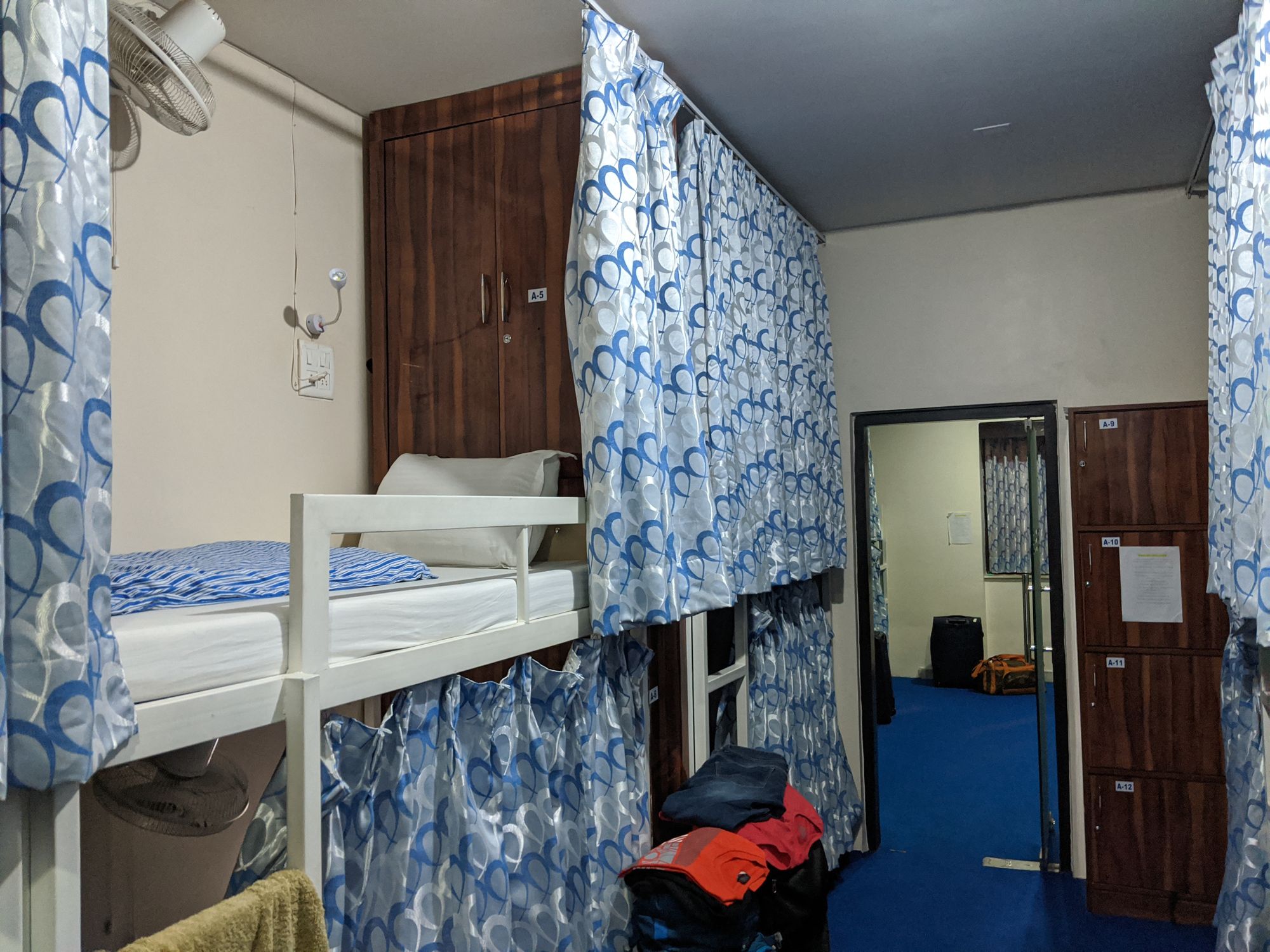 I also retrieved money from ATMs of the State Bank of India (SBI), which has no transaction fee with the Bank of Ceylon.
I booked hostels a day or two in advance through Booking.com. I searched for the railway station, filtered by distance (within 1 km - walking distance), and choose the ones with good ratings.
When I reached a town, I took out my Lonely Planet book, highlighted places to see, mark them on Google maps, mentally form a path and start walking. I kept my backpack (about 8 kg) locked at the hostel and walked with just an umbrella and a waist-pouch that contained my passport, money, and phone. I also had a secret compartment in my pocket with extra money.
I saw most of India on foot. I walked 40 km in 2 days in Kolkata, it was an unforgettably amazing experience. For longer distances, I also used Ola & Uber.
I almost always ate from roadside stalls (street food). Indian street food is amazing, and I didn't want to miss anything. A good rule of thumb is to eat from places where a lot of others are eating. I took the advice from a lecturer and kept some Imodium tablets with me. They came in handy once in a while.
I spent about 2800 INR per day on average, on transport, food, accommodation, sightseeing and everything else.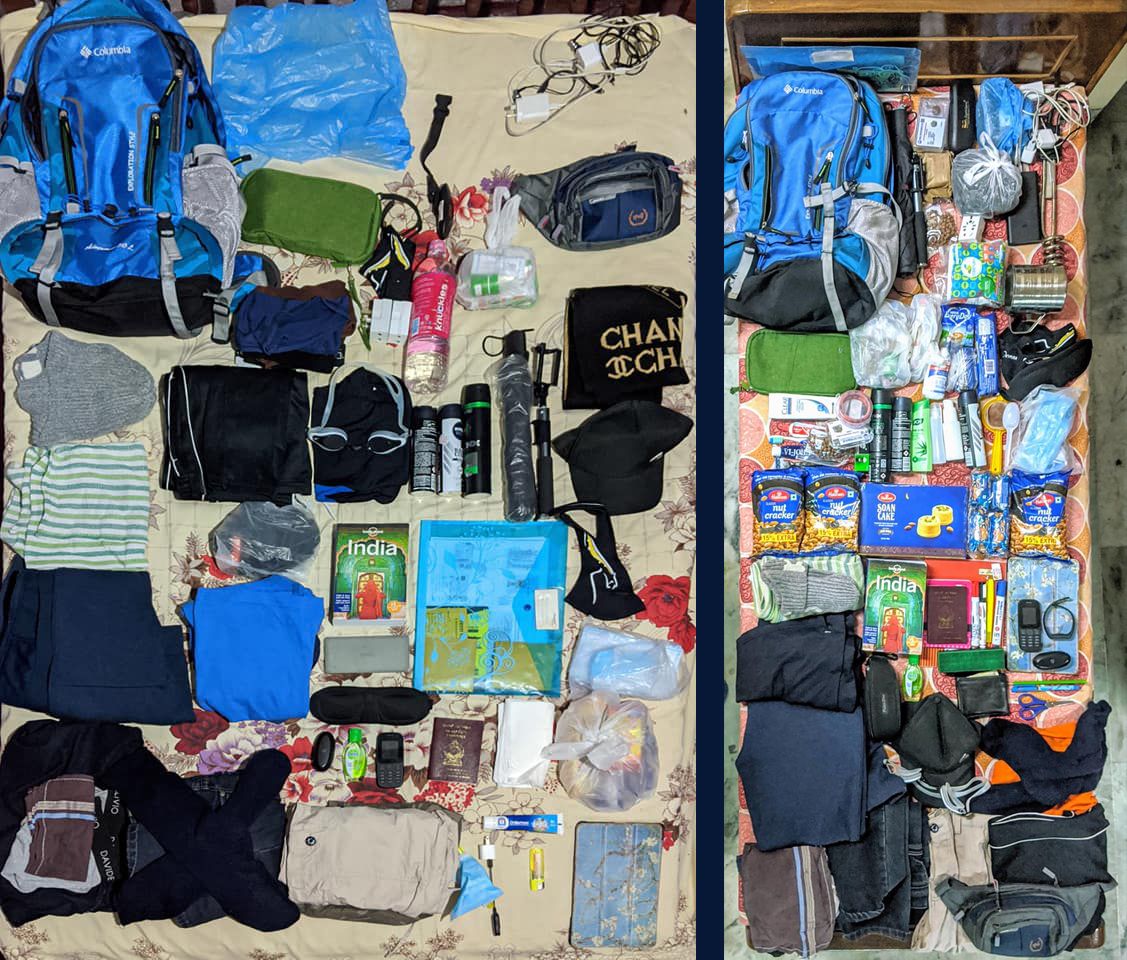 ---
Kolkata
A post-apocalyptic-looking city in a constant state of decay, ready to fall apart at any moment. A labyrinth of market stalls: selling street food, flowers, and everything under the sun, it's the ideal city to explore on foot. I walked 19 km on the first day, 23 on the second, through the maze of narrow alleyways. I loved every second of it.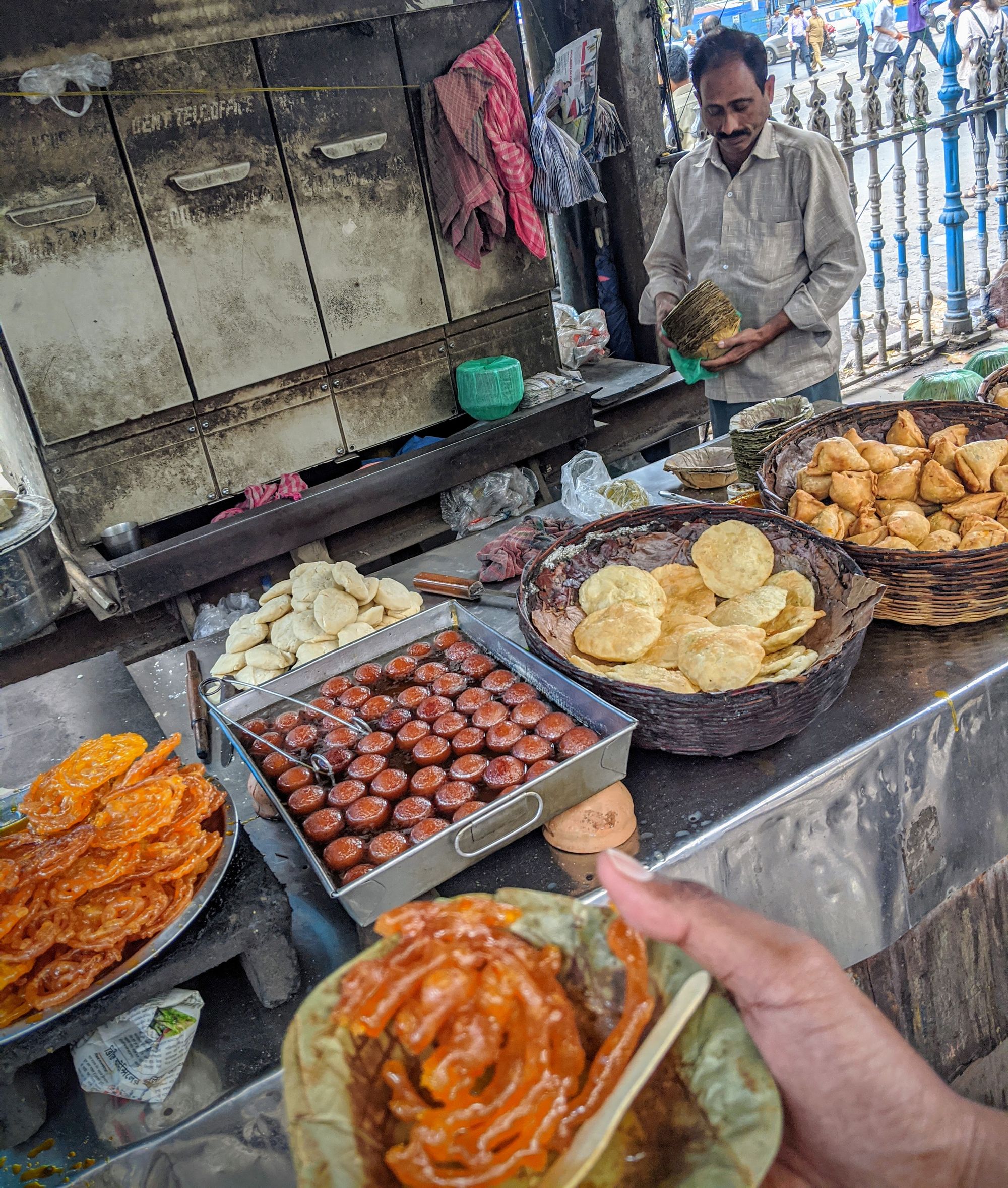 Bodh Gaya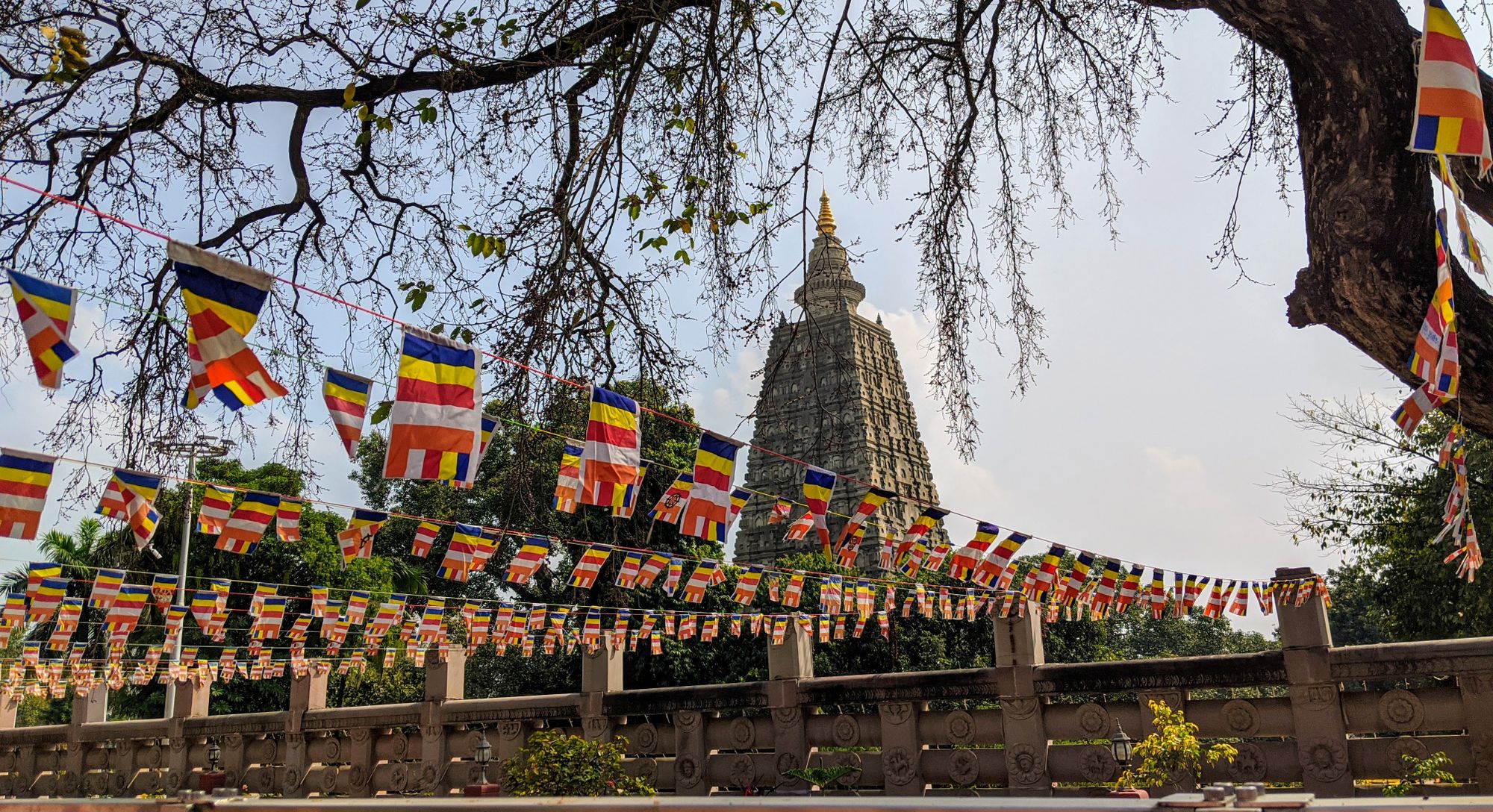 Varanasi
Hindus come here to die. Some Hindus bring the bodies of the dead to be cremated at the bank of the Ganges, where mantras are chanted all day at the scene lit by cremation pyres that spray ashes of the dead on you as you walk by. Also called Kashi and Banaras, this is the holiest of all sites for Hindus.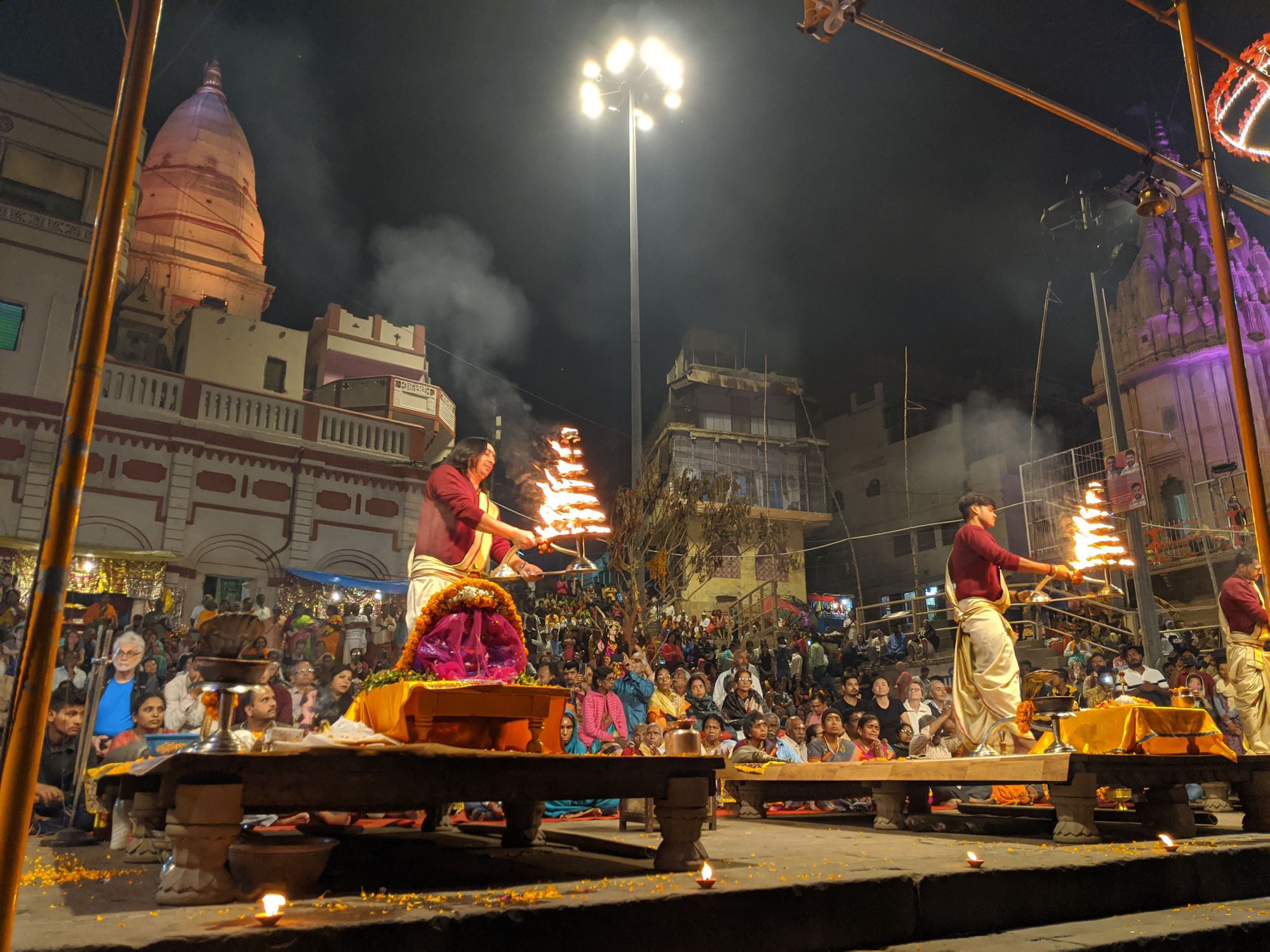 TL;DR: Cannabis is technically illegal, but this is traditional in India and is more potent than smoking ganja. I took precautions and had from a popular shop. Effects were windows media player visualizations and auditory hallucinations. All is well. Read for the full experience.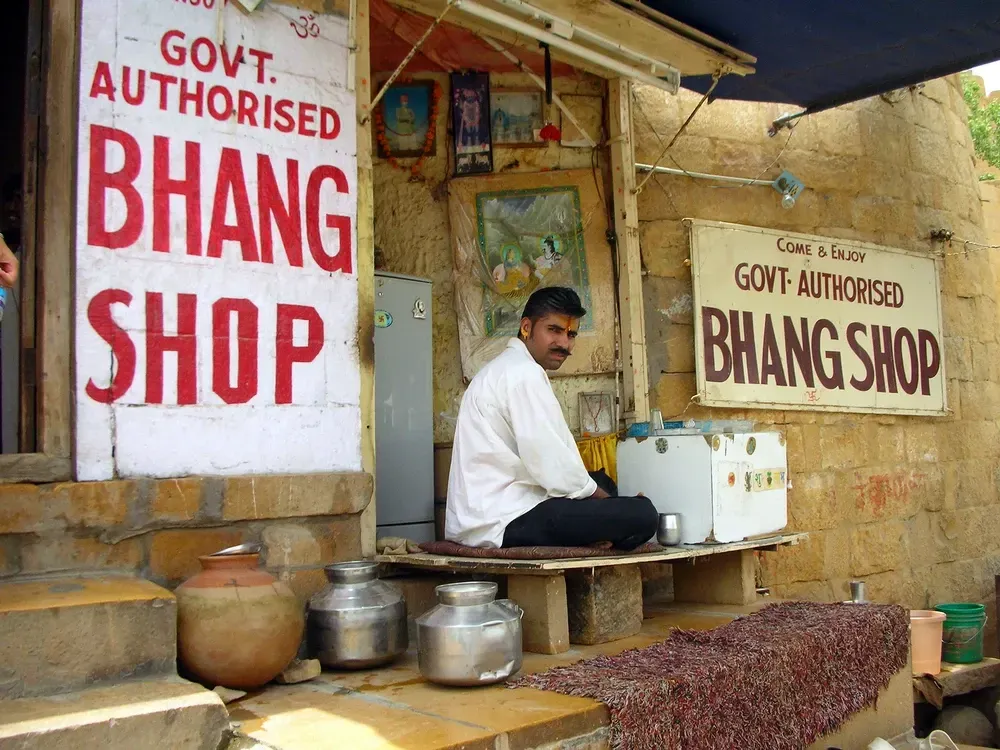 Lucknow
Okay, I went there mainly for food. And I was definitely disappointed. Instead, I got a surprise with my first dose of Mughal architecture! Famed all over India for its food: Kebabs and Biriyani, Lucknow is the capital of Uttar Pradesh, the most populous and most politically influential state of India.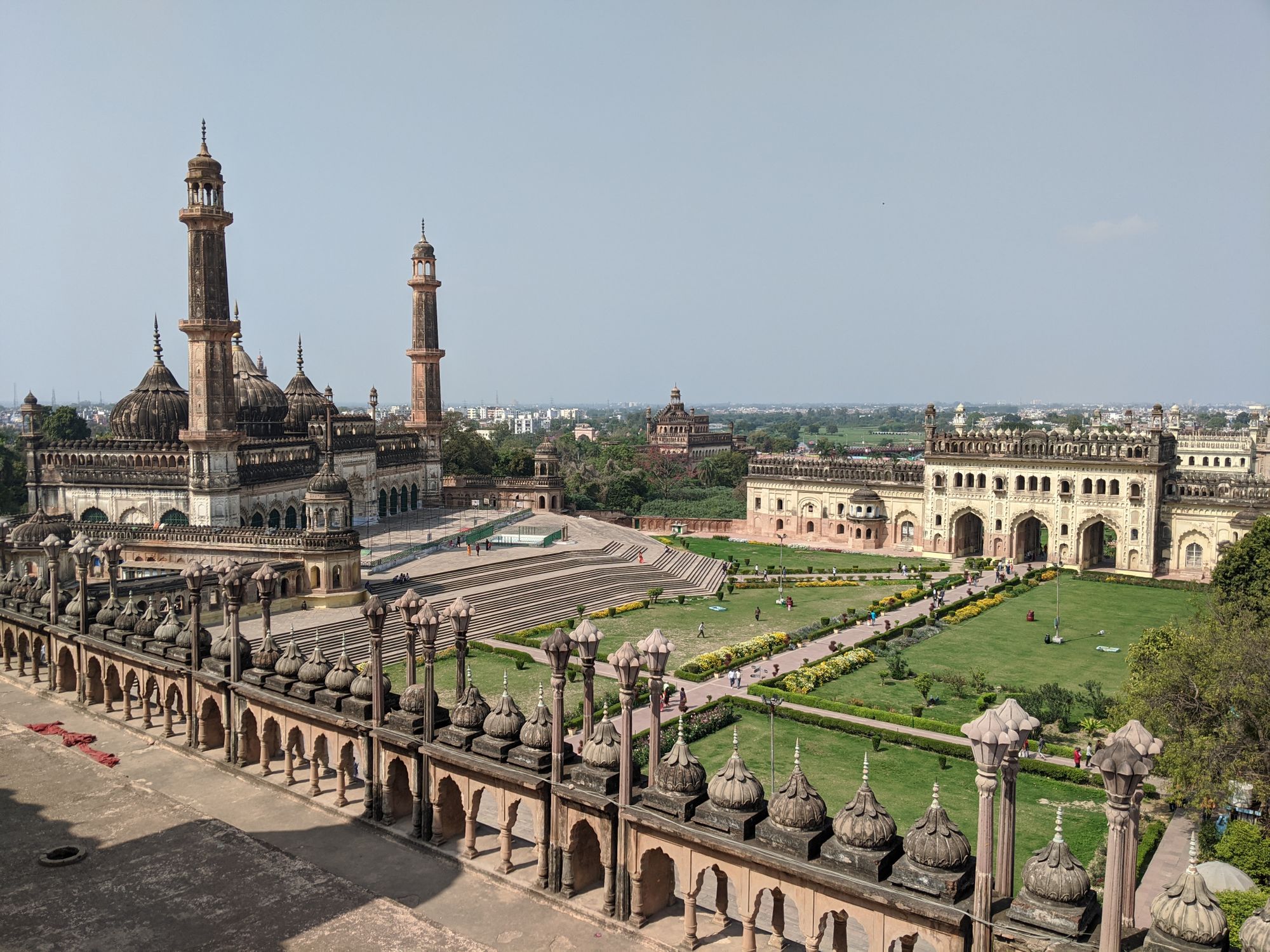 Taj Mahal
Widely considered the most beautiful building in the world, Tagore called it a "teardrop on the cheek of time". There are a ton of mind-blowing architectural details in this Mughal masterpiece, especially in the detailed decorations that are easy to miss, which I'll try to highlight here (hence the long post). An example would be the firestones precisely cut into tiny pieces, inlaid into the white marble stone, and arranged into decorative lotus flowers that can light up from within.​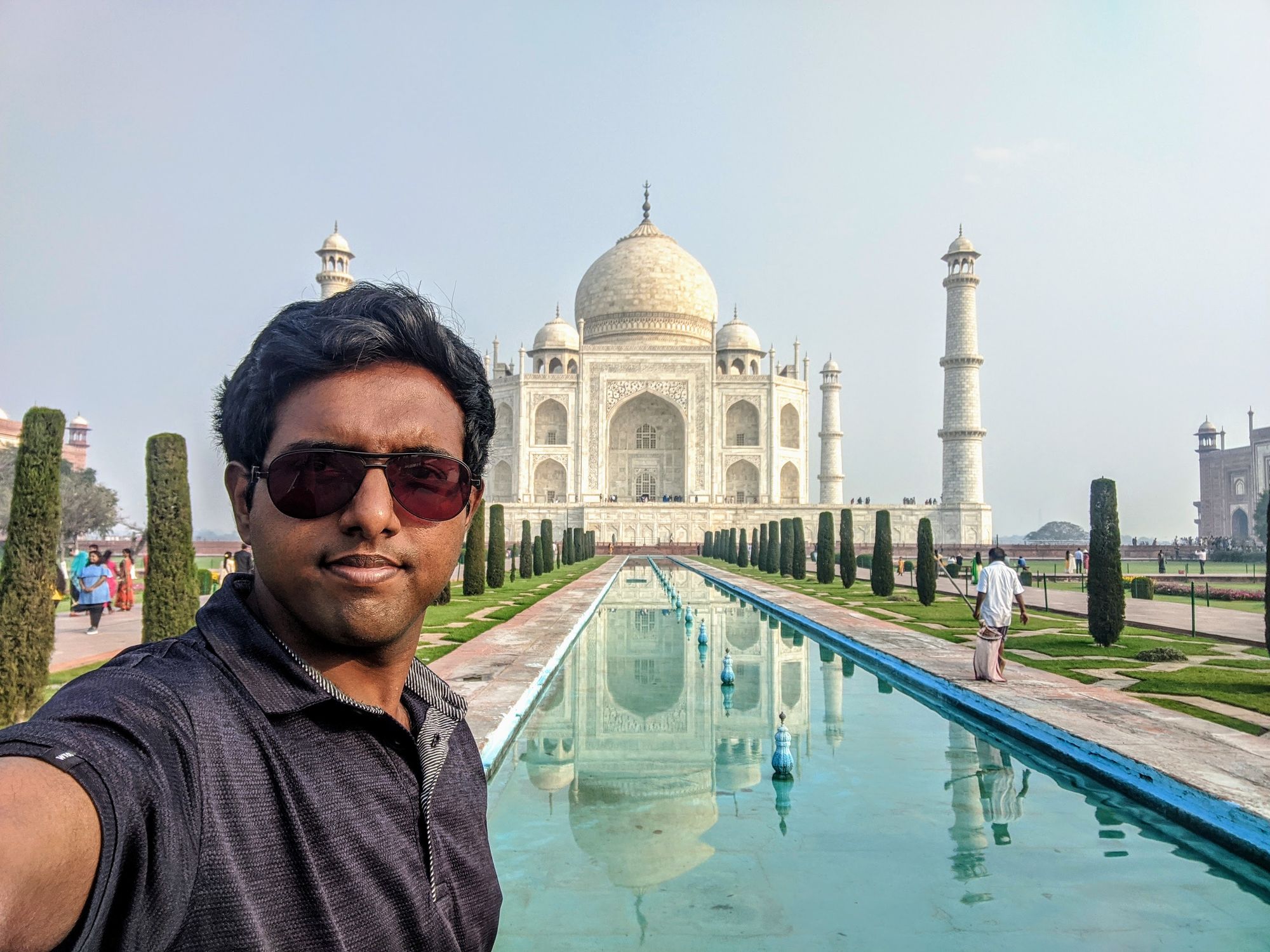 Agra
I spent the afternoon and evening visiting Fatepur Sigri (Akbar's city) and Agra Fort. It was the capital of the great Mughal empire until Aurangazeb shifted the capital to Delhi.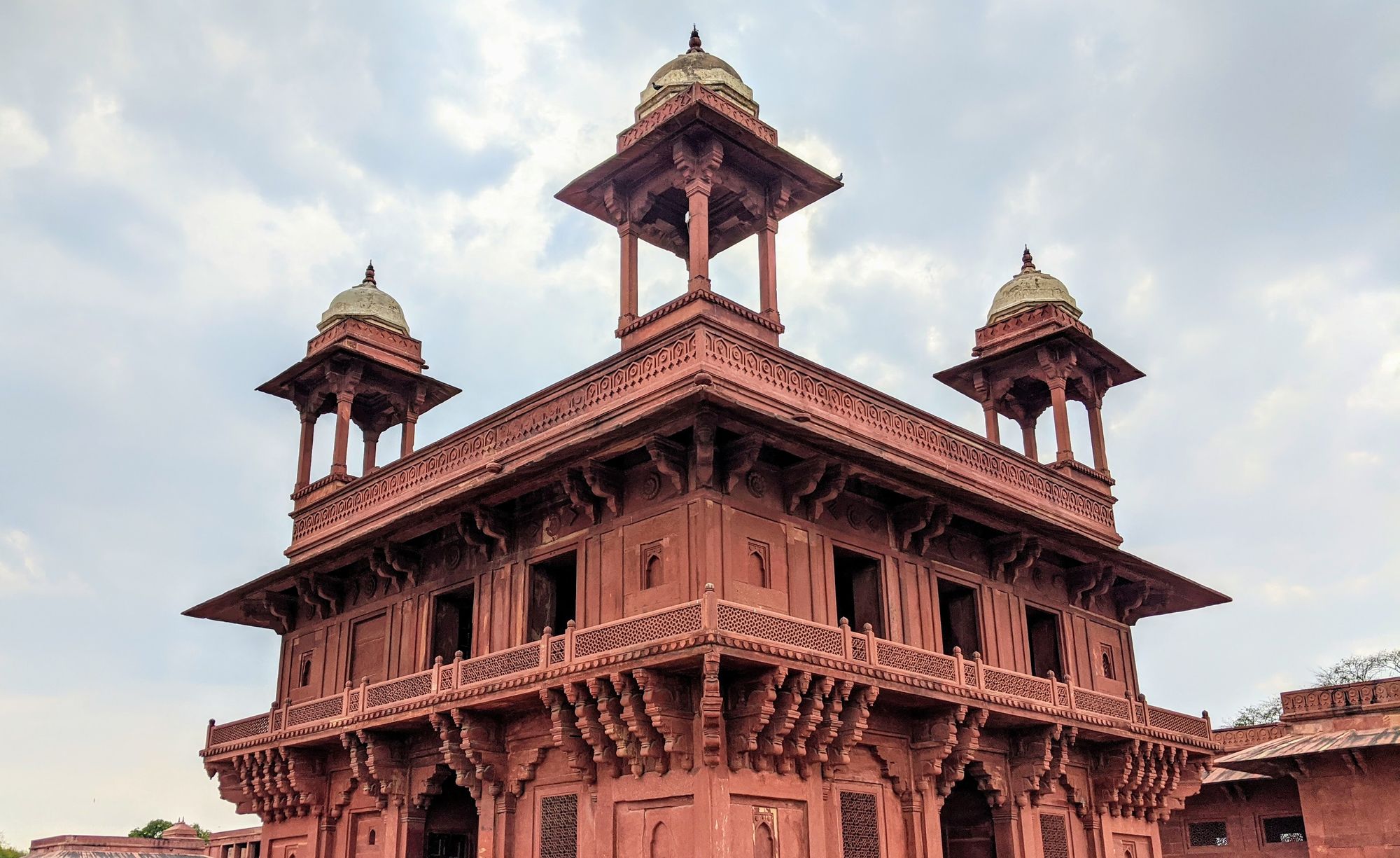 Delhi
The old Delhi is so dirty and chaotic, just like Agra. I reached Delhi at midnight and walked 2 km to the hostel in rain wading through dirt, shit (including human), and overflowing sewers, all mixed and flowing in the narrow roads. But I underestimated its rich history and architecture! Red Fort was a sight to see. I should go back.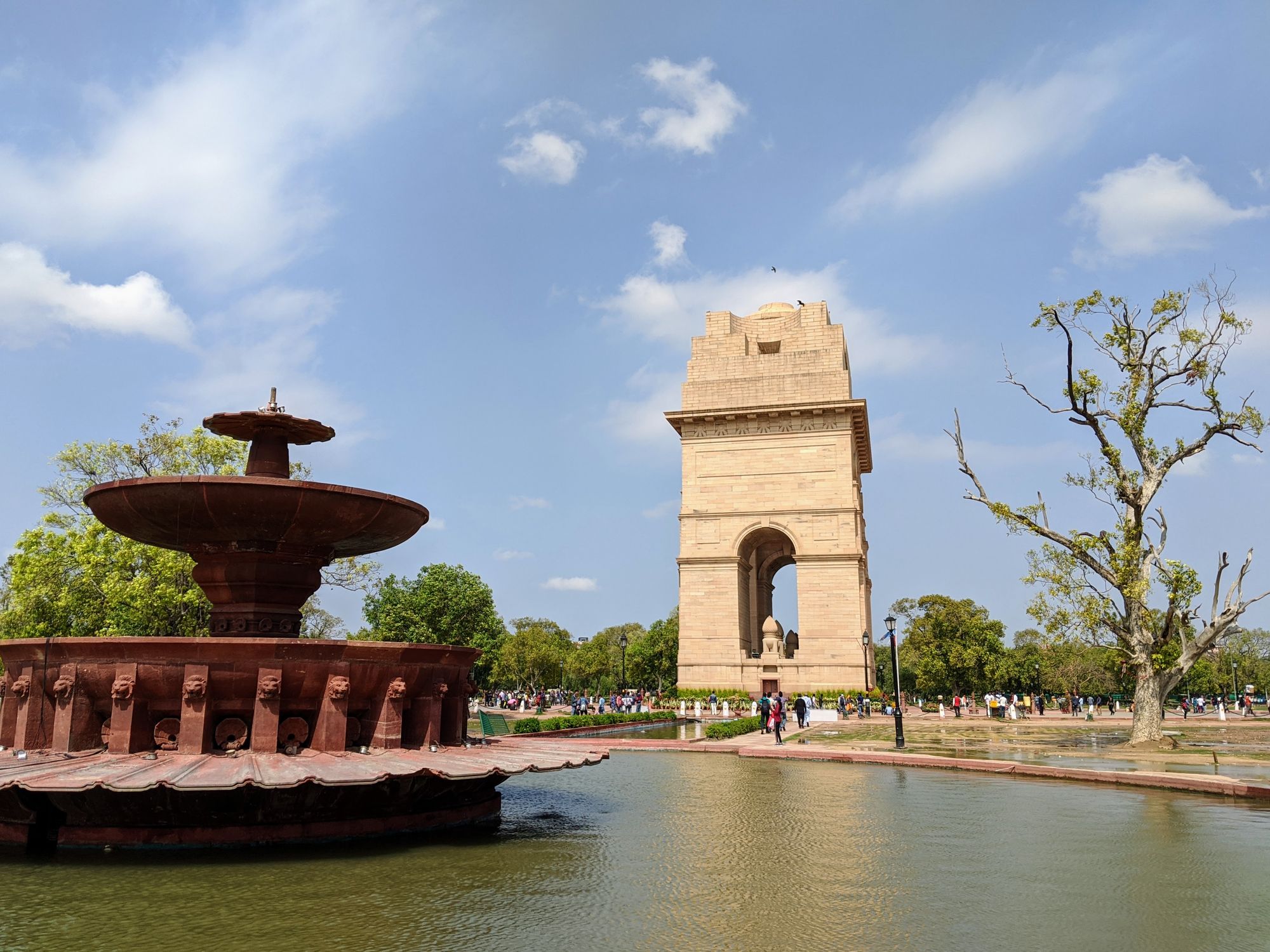 Sex Temples of Khajuraho
Built 1000 years ago, these temples are world-famous for their highly explicit 'Kamasutra' (misnomer) sculptures which are more vivid than today's porn. Needless to say, it was high on my bucket list. Verdict: 24 hours traveling up and down from Delhi was definitely worth it.​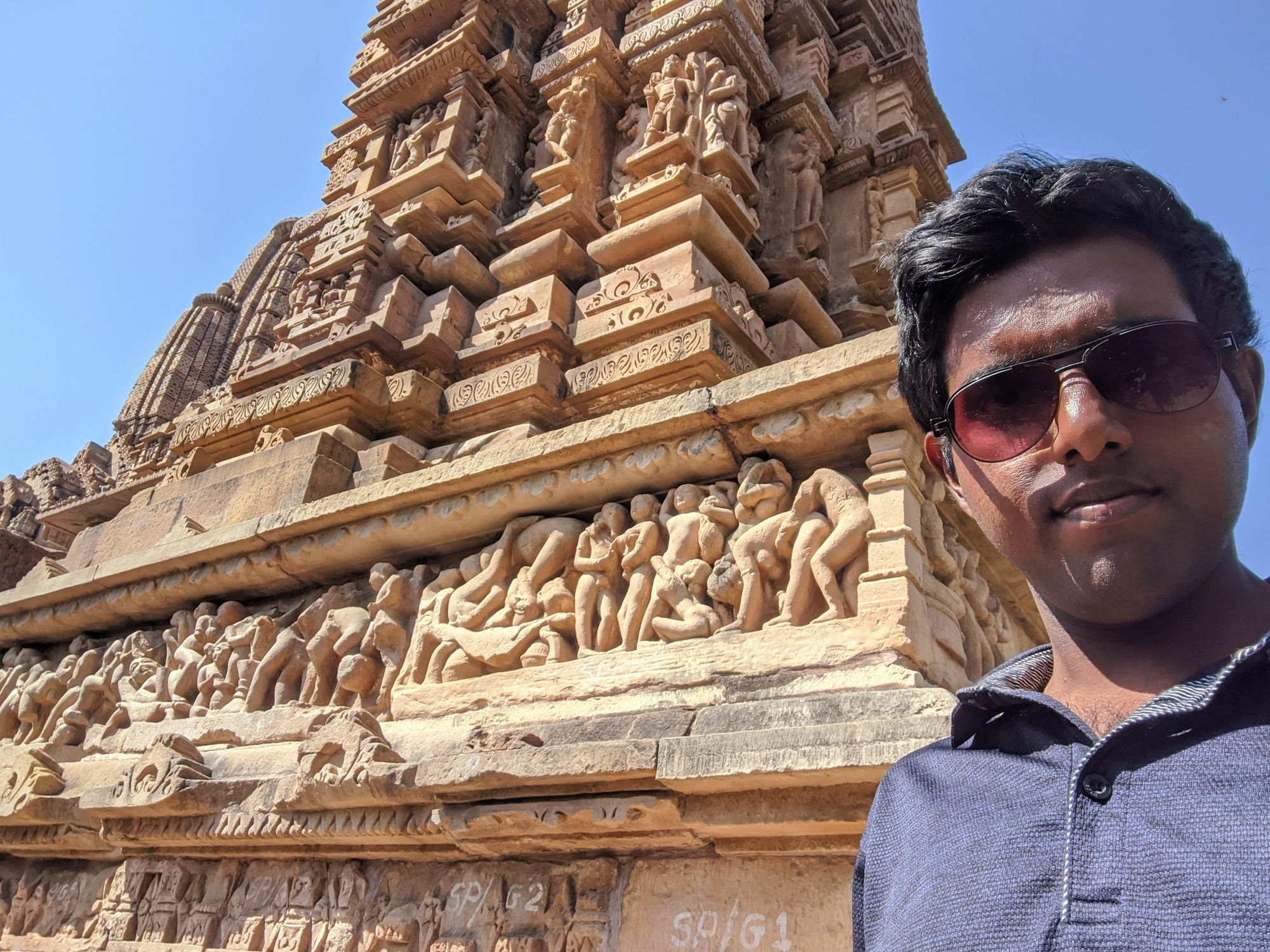 Holi at Vrindavan
Holi is the 1400-year-old festival of colour, celebrated at the end of spring. According to legend, Holi was started by the mischievous Krishna (avatar of Vishnu) himself, when he was playing with Radha, his primary girlfriend and applied coloured powder on her face. This might well be the first "சம்பவம்" in history!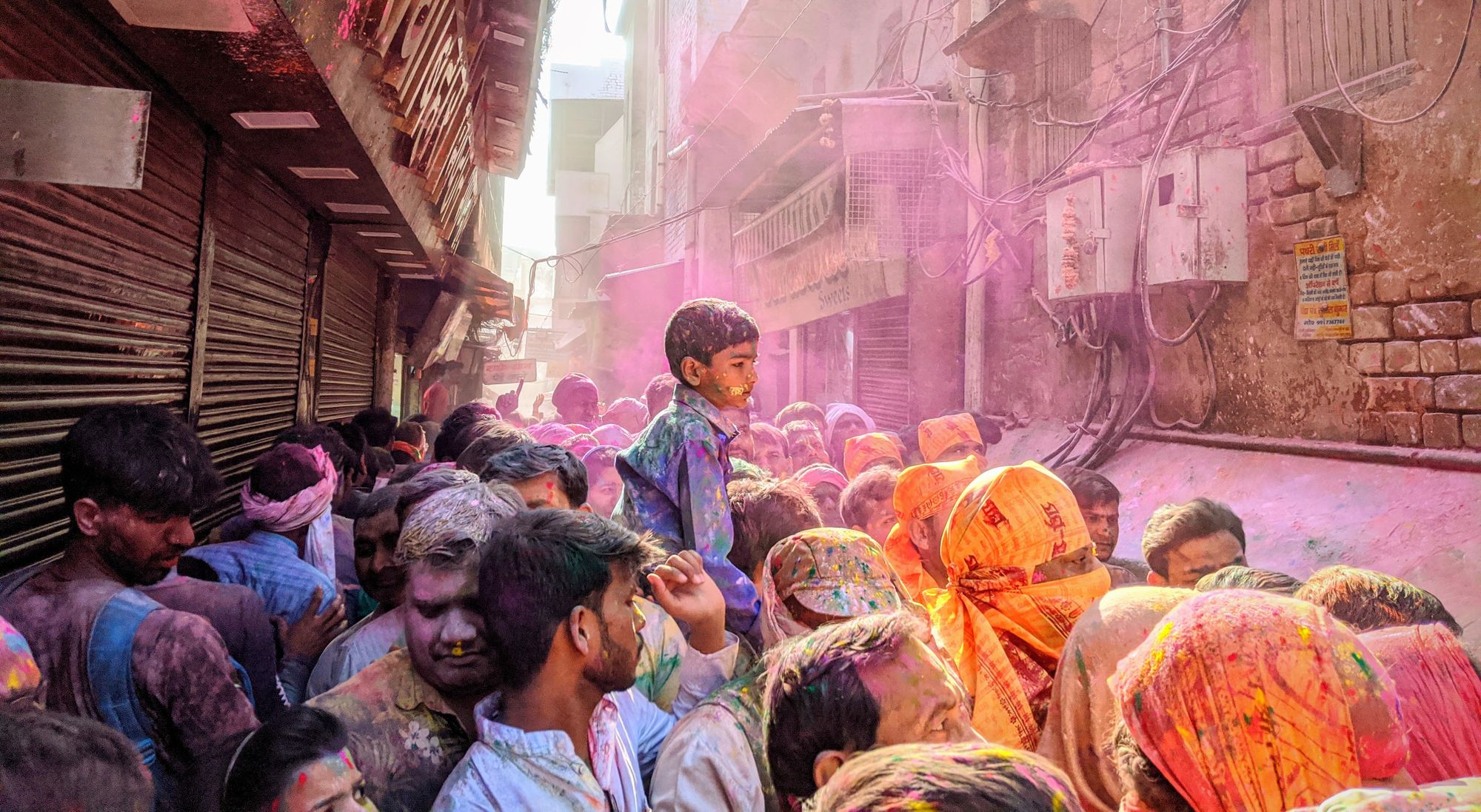 Both my glasses were broken by monkeys last week by monkeys that terrorize the tourists, wanting Frooty juice packets.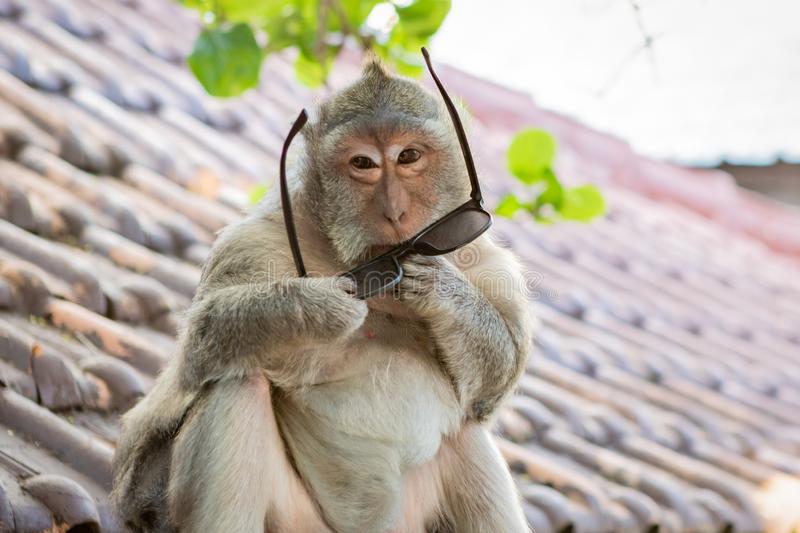 ---
Rajasthan
Literally, the Land of the Kings, Lonely planet starts with "There's more history in Rajasthan than rest of India combined.". While an outrageous claim, I found it to be quite true. As a general region that housed multiple kingdoms of Rajputs, Hindu warriors race who gave a tough time to Mughals, every city in Rajasthan is unique and has a rich history, architecture, and culture.
Jaipur
The capital of Rajasthan is the first planned city of India, founded 300 years ago. The entire city is painted in Salmon pink and has special lamps that make it appear magical at night. With palaces with rich, exquisite architecture, there is also an astronomical observatory built by the King Jaisal with amazing equipment.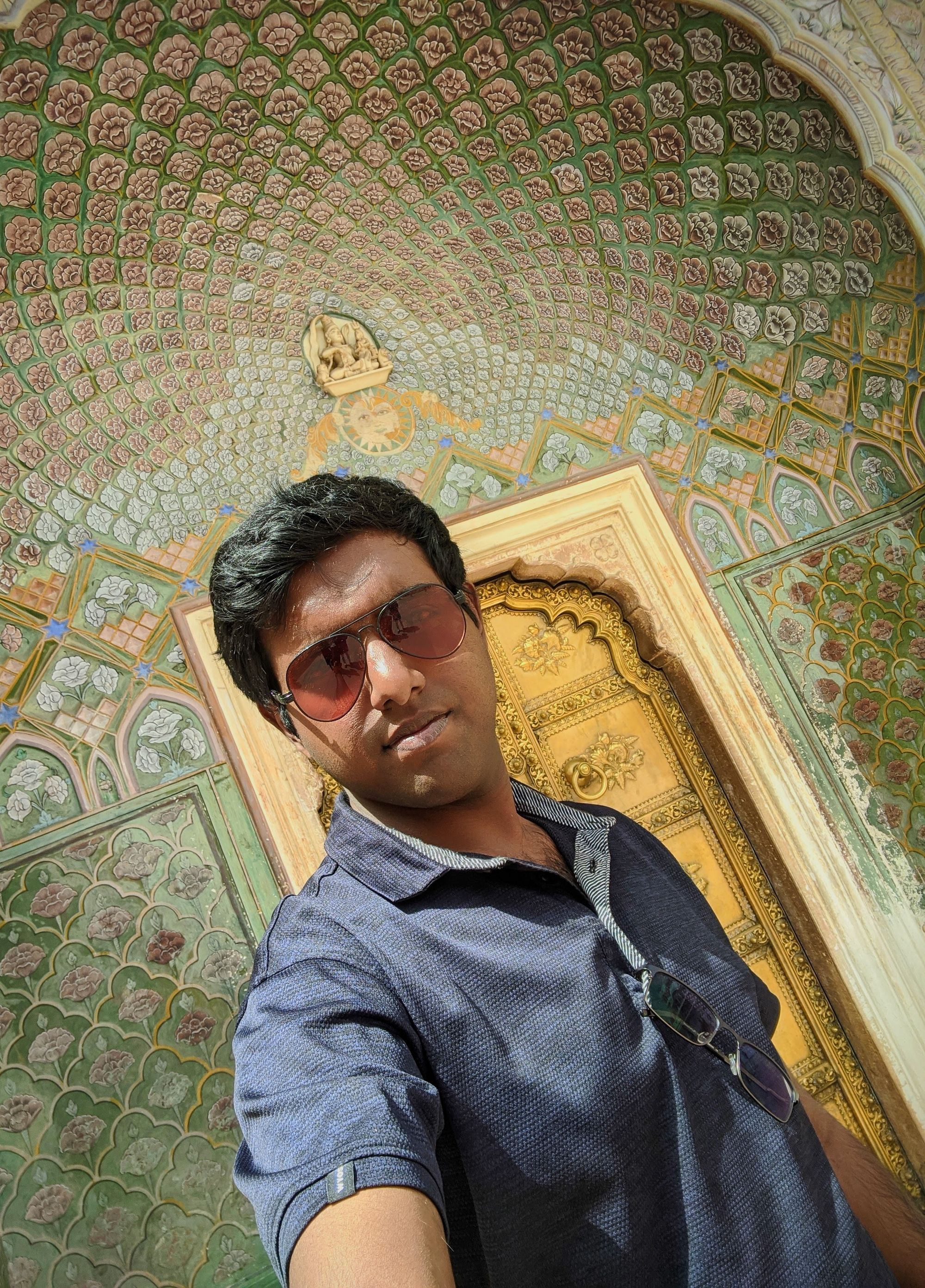 I might be the first guy to use indicators in India. Most motorbikes and autos don't even have side mirrors! They remove it, some bikes even turn them inwards, so they can creep into the narrowest of gaps without breaking the mirror! The only button/switch drivers use is the honk. They overtake from both sides, absolutely no rules in roundabouts.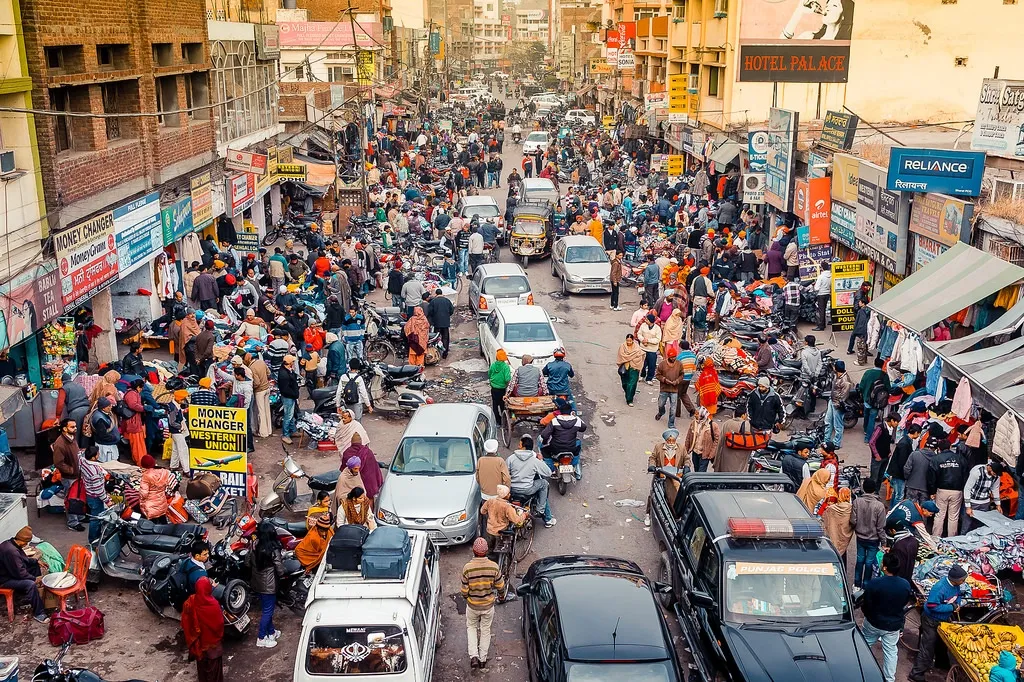 Jaisalmer
Thar desert. A majestic golden castle rises from the sand like a mirage. An isolated small town surrounds the castle. That's Jaisalmer. A living fort bustling with business and travelers, houses built with honey-colored sandstone with exquisite artwork... It was a magical experience.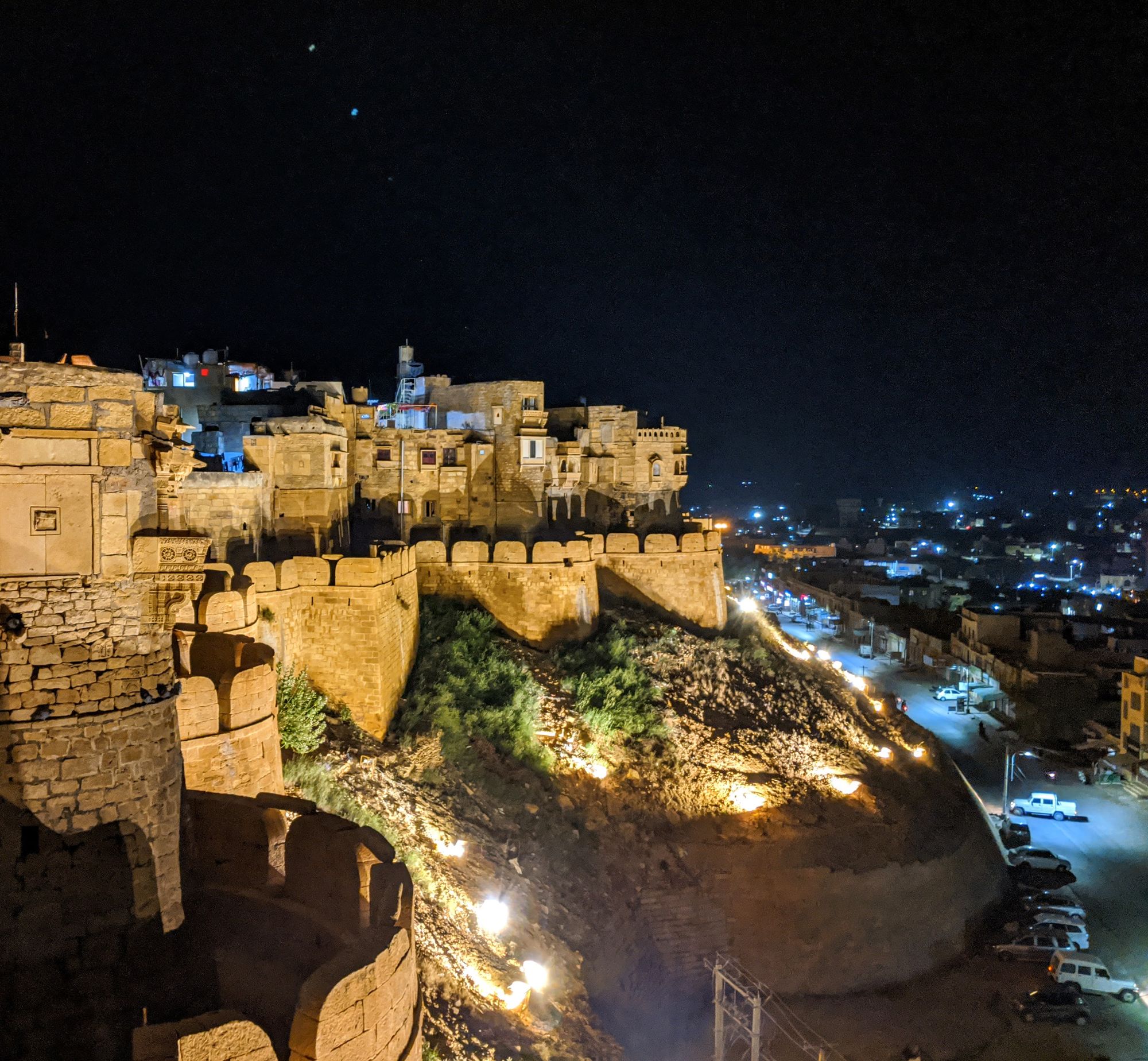 Camels are amazing creatures! My Indonesian friend and I rode our camels (named: Rajah, Rocket, Micheal Jackson) into the desert, had one of the tastiest meals in India prepared by our 'camel boy' Luckya, slept under the stars (no tent, didn't need one) on the sand dunes, watched sunset and sunrise. Tried a bit of camel racing as well.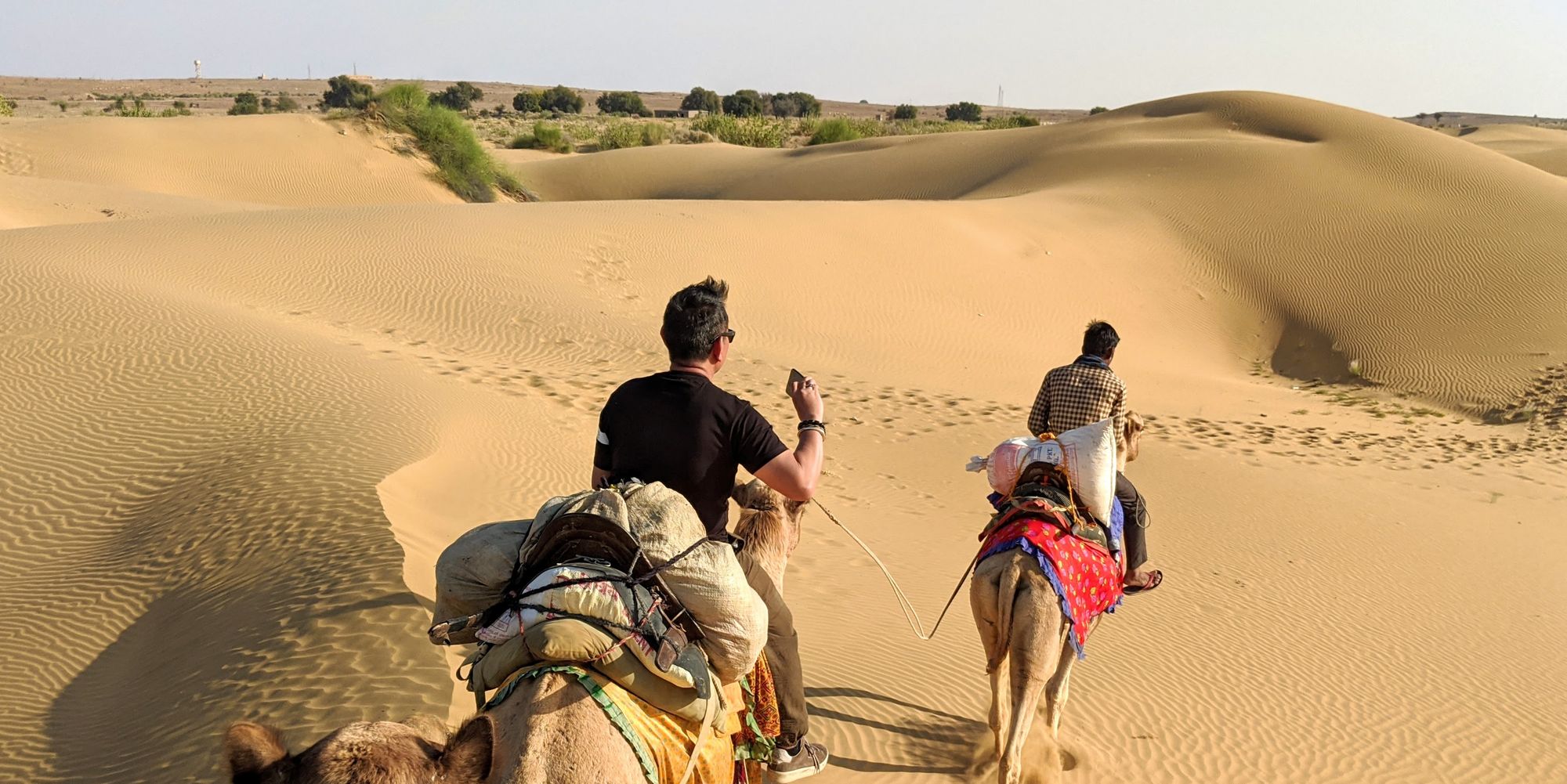 Rajasthani Village
Traveled on top of the bus from a remote village. Rajasthani people with head turbans around me, a bus going in a lonely road winding through Thar desert dotted with tiny mud houses.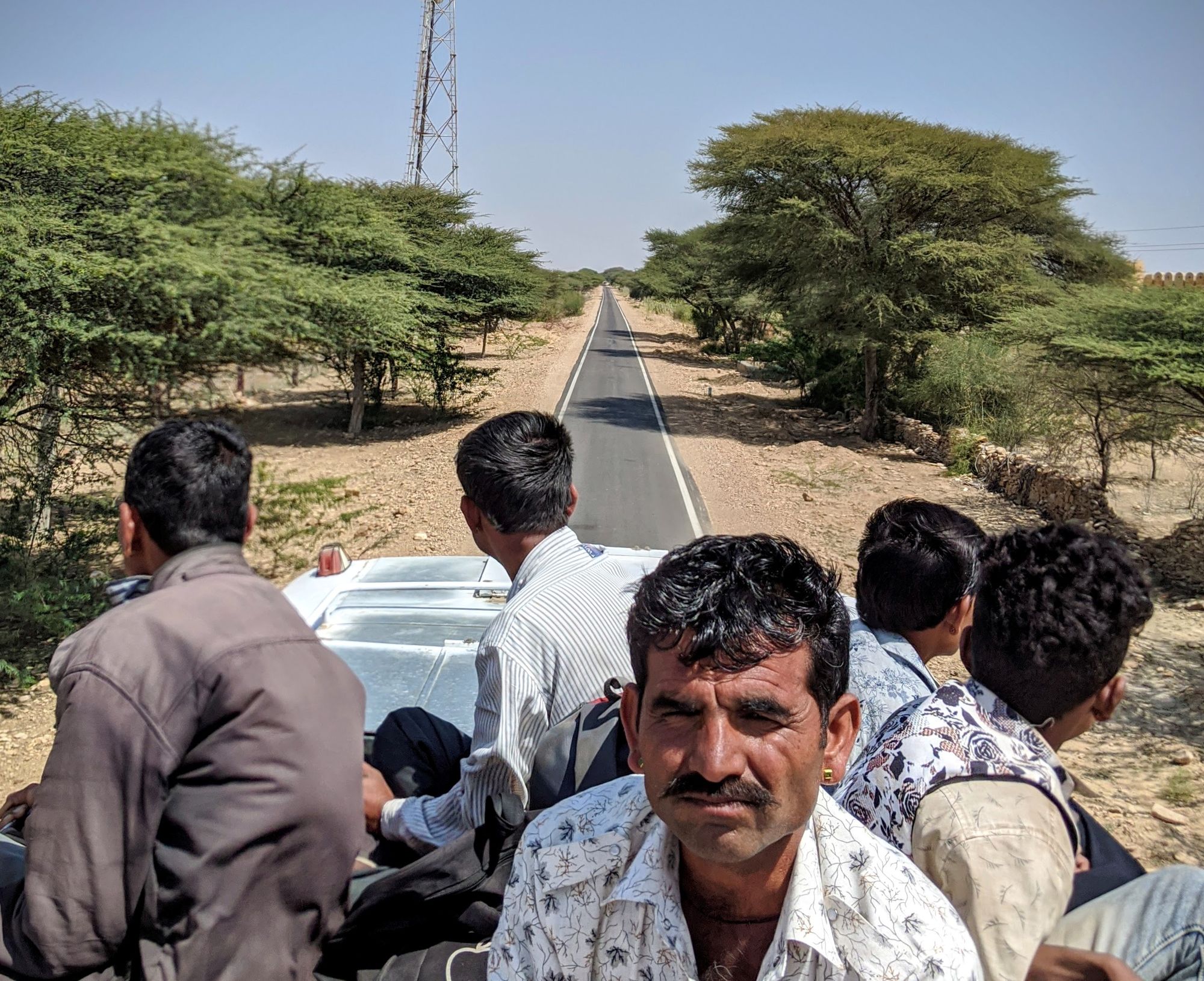 Jodhpur & Udaipur
Two Rajput kingdoms: Jodhpur and Udaipur are known today as the blue city and the city of lakes.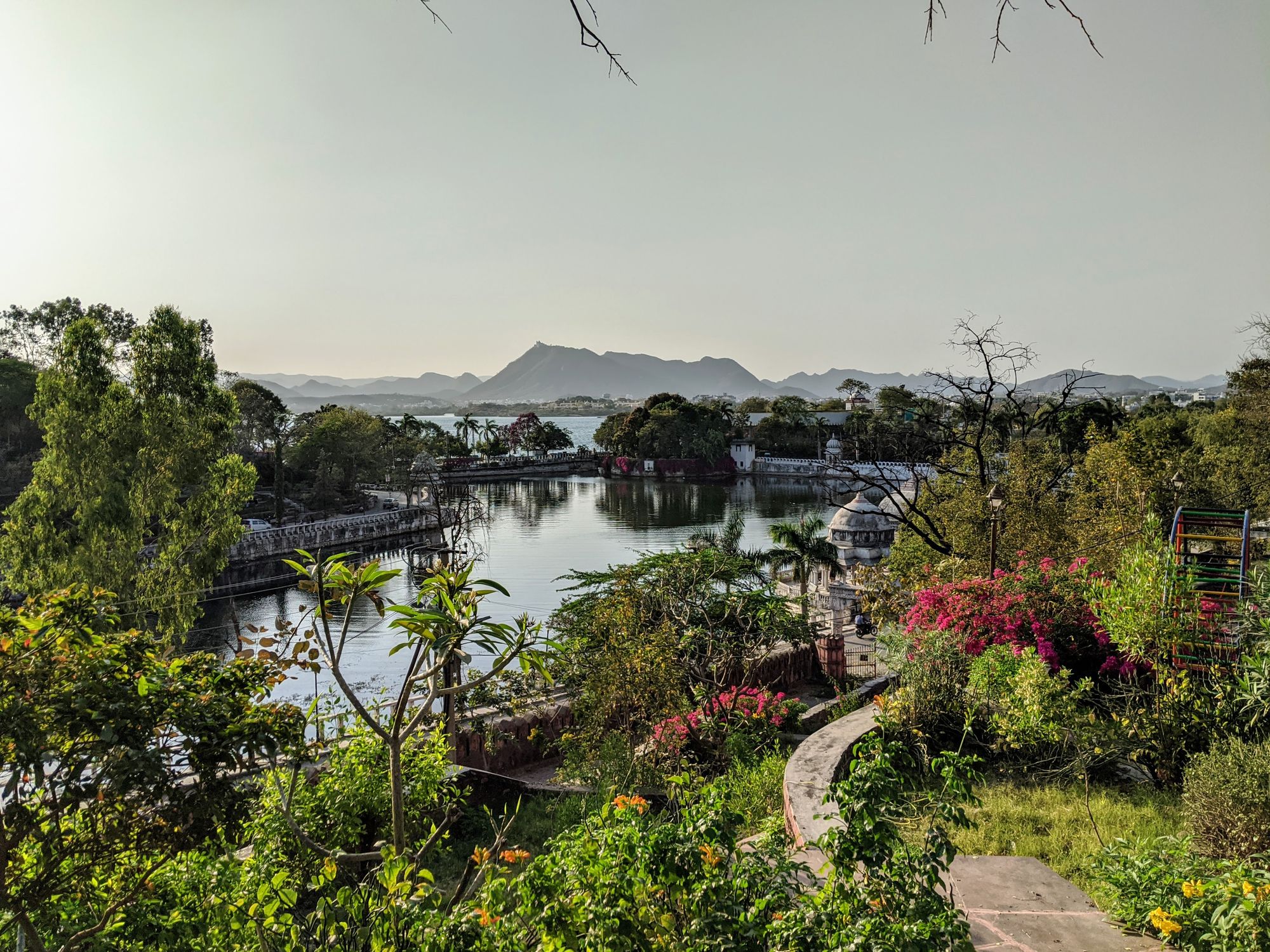 ---
Amritsar
A doctor tested (?!) me for COVID-19, I fought with policemen, shouted at them, they took me on a bike and got stopped by traffic police for a traffic violation. I escaped, saved a German guy as well. Also, IT'S NOT WHAT IT LOOKS LIKE!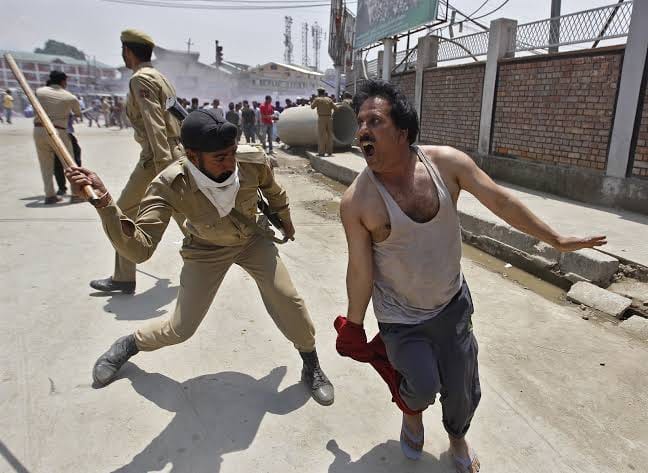 Lockdown, Return & Quarantine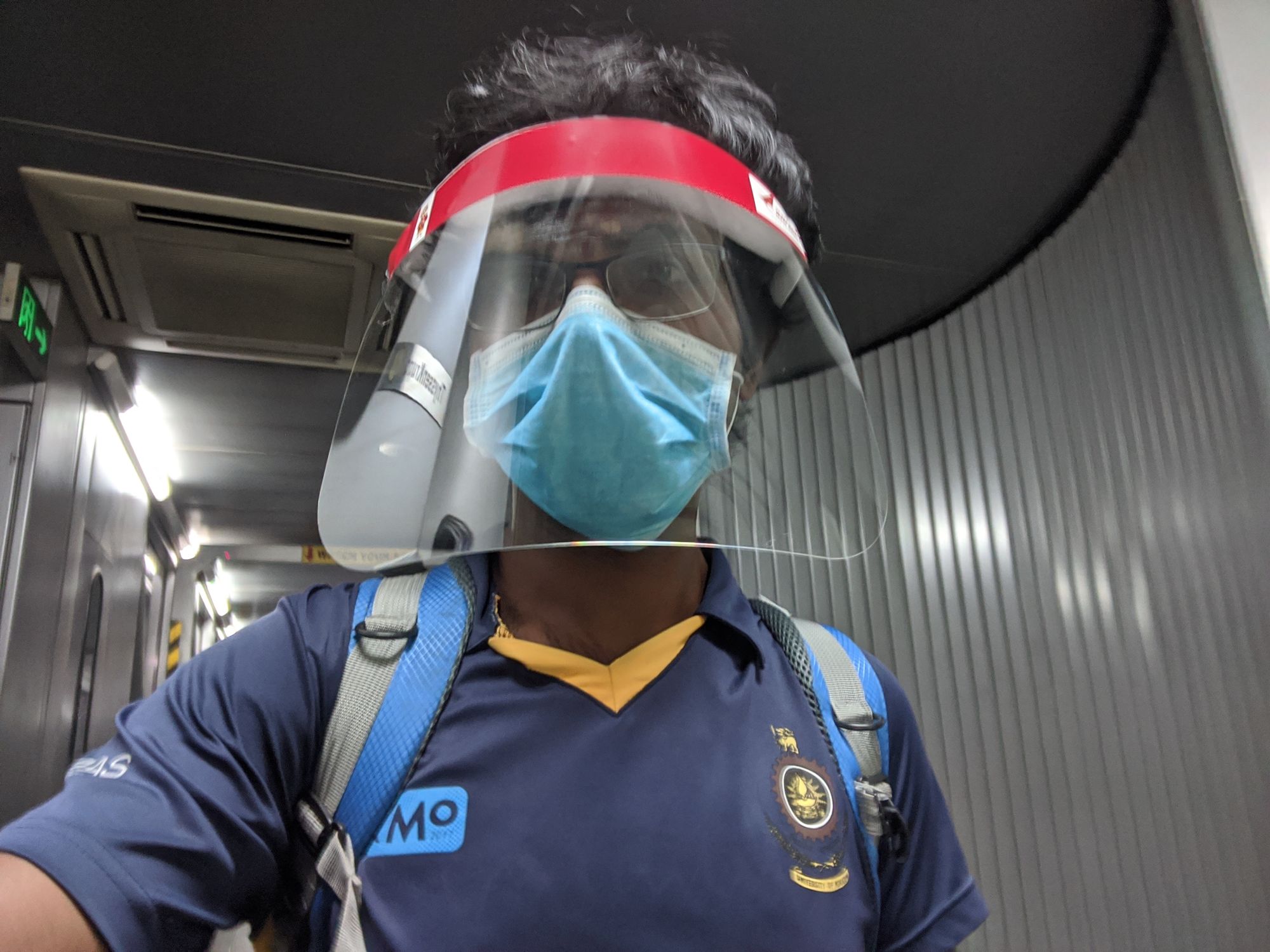 NorthEast India
2019 - With Mom
1 week, 2 people, 5 states, 7 flights, 8 languages, 1000 km (by road)​. Golden sunrise over the ice-capped facade of Himalayas, with clouds rolling beneath like ocean, the cleanest village in Asia, boating in crystal clear waters in Bangladesh border, living tree roots crafted into bridges by indigenous tribes...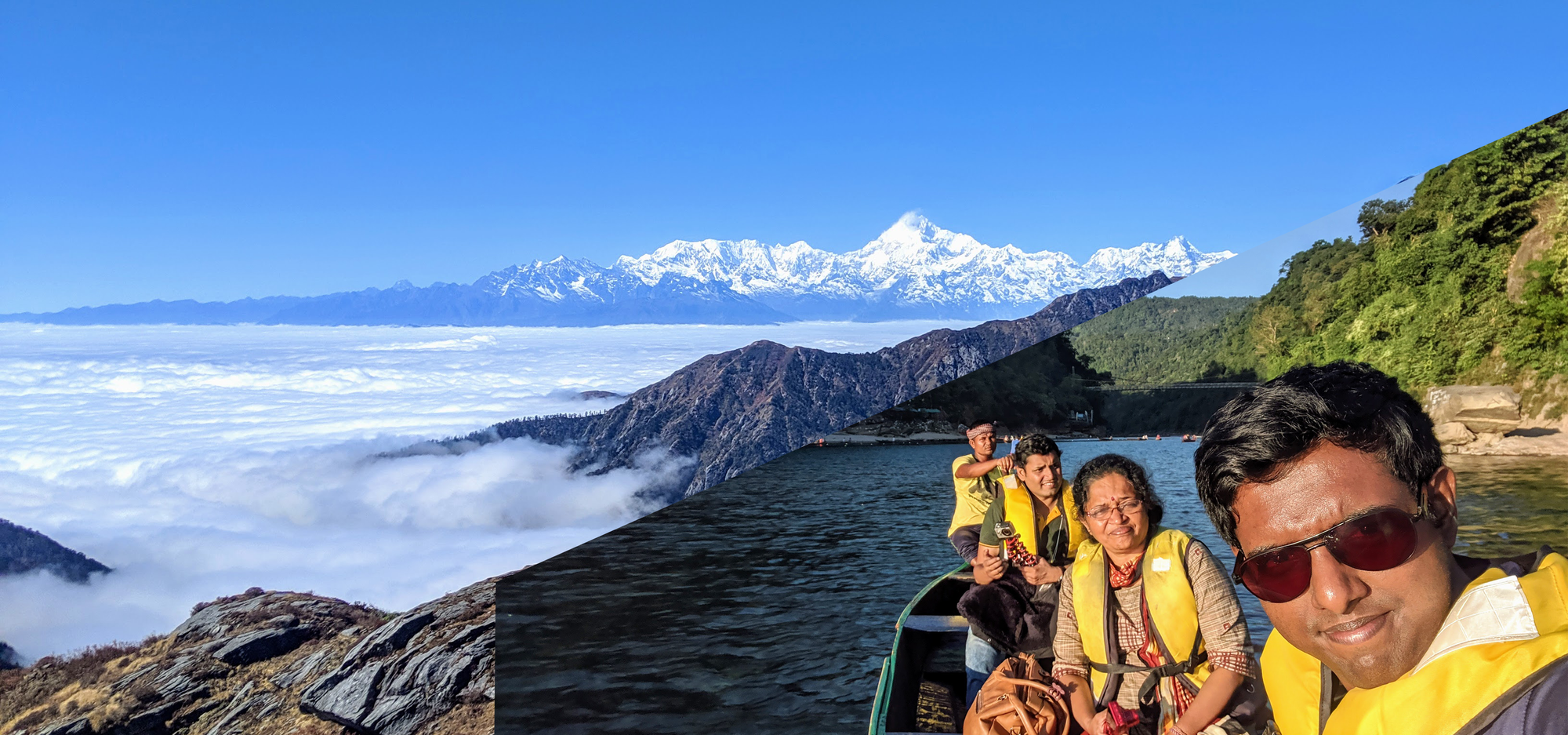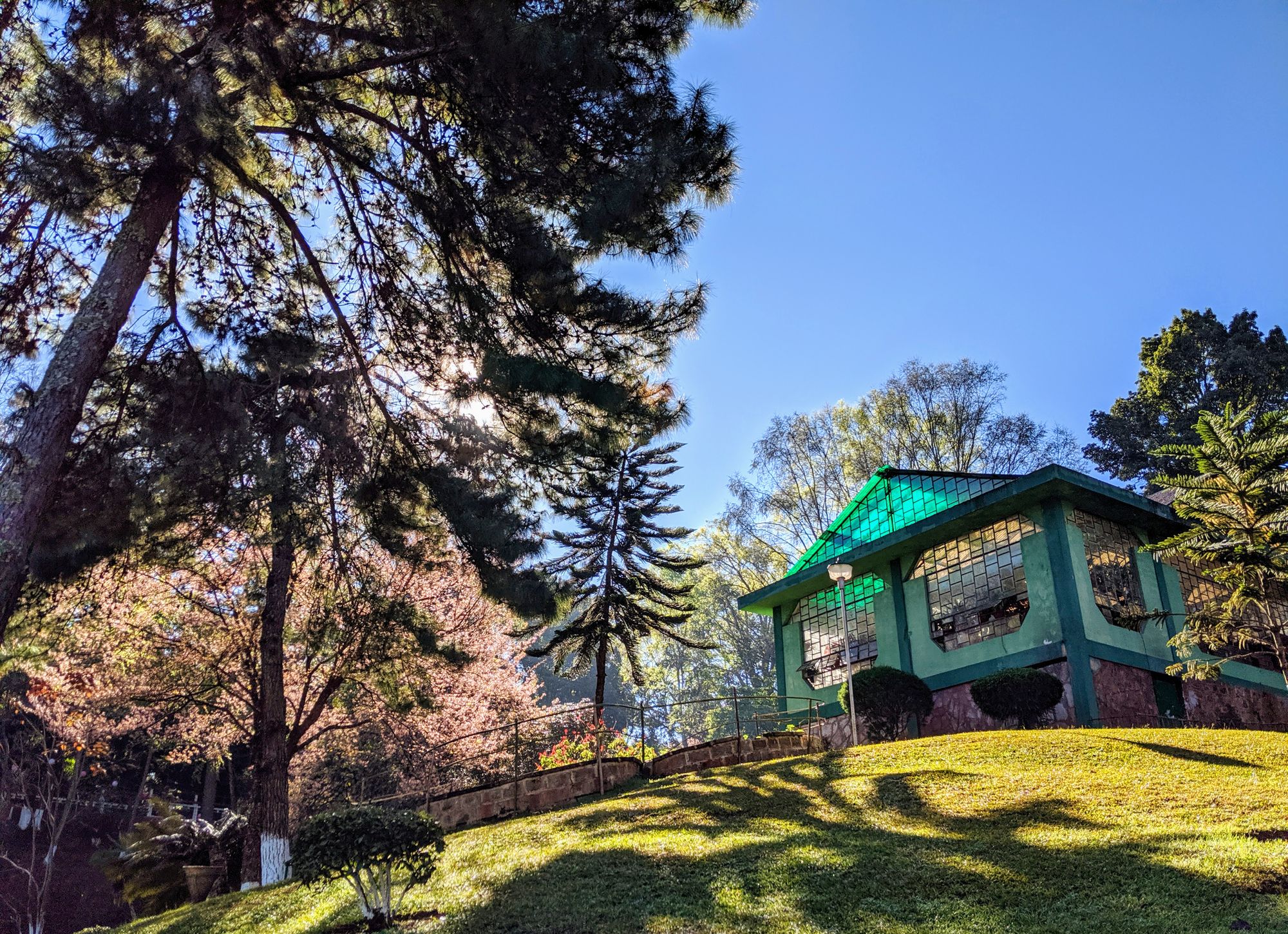 Tamil Nadu
2014 - With Mom
Known for ancient temples with impeccable Dravidian architecture, Tamil Nadu is twice bigger in the area and has thrice the population of Sri Lanka. We visited Sri Rangam: the 150-acre temple on an island in a river, the towering vimana of Periya kovil, sculptures of Mahabalipuram, Mangroves of Picchavaram, and more.